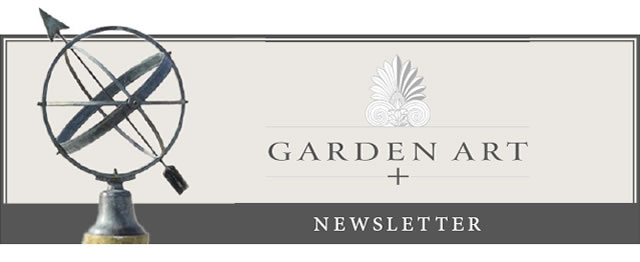 New arrivals at Barrs Yard!... last month we announced the arrival of two very special pieces at our Hungerford premises, the 1856 Pugin Chapel and a pair of original wooden bridges from the Japanese gardens at Wilton House - both received a great deal of interest with the bridges finding a new home within a matter of days.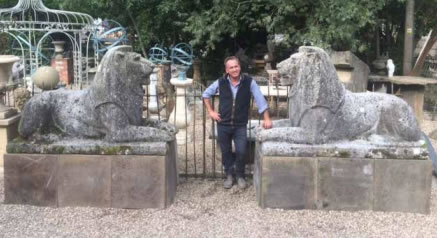 This month we again have a couple of real "finds" to tell you about in the shape of a monumental pair of 19th century stone lions. These magnificent beasts were made in
the 1860's by Austin & Seeley and really are a couple of statement pieces - they look extremely regal protecting Barrs Yard!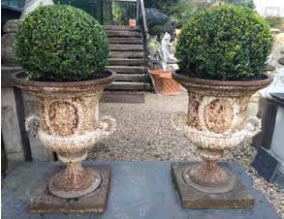 Other new arrivals include this pair of French early 19th century cast iron urns.
These urns have a great weathered appearance and are perfect for use either inside or outside your home.
Also gracing the yard this month is this mid 20th century Italian statue of Venus au Bain. A fine featured figure measuring 153cms high.
Later this month Travers will be visiting one of Wiltshire's larger country homes on a purchasing spree... owned by one of the country's leading garden designers there are sure to be some more gems arriving here next month!
As always our stock of garden antiques is an ever changing range of urns, statuary, sundials, birdbaths, fountains, stone troughs, staddle stones and... much more for both the garden and the house.
Our website www.gardenartplus.com is regularly updated with current stock so do make sure you have a look or better still come and see us here at Barrs Yard.
Garden Art + Barrs Yard . Bath Road Hungerford . Berkshire . RG17 OHE
T: 01488 686811 . E: sales@gardenartplus.com . www.gardenartplus.com
www.barrsyard.co.uk